Bamboo toothbrushes are a lot similar to genuine manual toothbrushes that you might find in the market. They have bristles to remove the food bits, brush the plaque off from the teeth, and have bamboo handles for a proper grip. The major difference between the plastic toothbrush and bamboo toothbrush is the material otherwise, they both are effective on teeth. A bamboo toothbrush is a beautiful and environmentally friendly tool that is better than the old types of toothbrush and helps maintain your mouth hygiene. Although you might find nylon or charcoal bristles on the modern bamboo toothbrushes, you might still find some toothbrushes using other materials for the bristles.
'Are bamboo made toothbrushes environment friendly?'- Bamboo toothbrush differs from plastic toothbrush since it is eco-friendly, it can be easily decomposed. Unlike those plastic toothbrushes that take about 300 years to decompose and trust me, it isn't healthy for the environment as you will need to change the toothbrush every three to four months. Well, bamboo toothbrushes are biodegradable and the handle can be composted once the bristles are removed.
Even if the bamboo toothbrushes get thrown in the trash bin, they will still be more eco-friendly than the plastic toothbrushes. For those who wish to switch to the fully biodegradable or bamboo toothbrush, choose the high-quality eco-friendly bamboo toothbrush with soft charcoal or nylon bristles to protect your teeth from plaque causing bacteria, gum problems, bad breath, and protects the enamel from wearing out.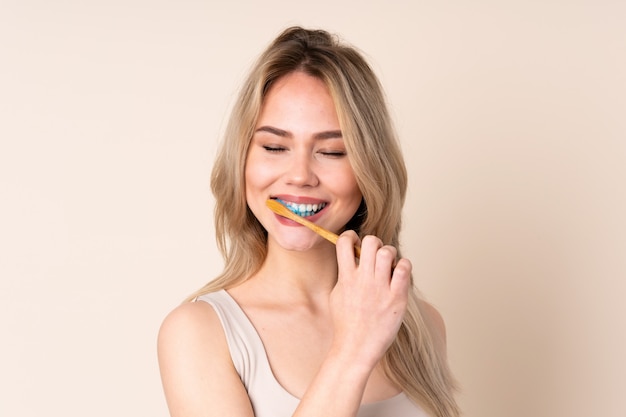 Now there's another question that might pop in your head- 'are bamboo toothbrushes really safer for the environment?' Well, the answer is a simple 'Yes!' since the handles are bamboo (totally biodegradable), you can decompose them easily once you are done using them and can even reuse them in your garden. Bamboos are fast-growing grass and they don't need much care or the requirement of pesticides, hence economical as well as an eco-friendly tool to keep up with oral hygiene. Nowadays it is important to use natural and decomposable brushes to clean the teeth. Bamboo toothbrushes are an ideal and eco-friendly alternative for plastic toothbrushes.
Here are some things that you should retain in mind- bamboo toothbrushes should be placed upright position in order to let them dry quickly. It is advised by the dentists to replace the old toothbrush as soon as you see a sign of the bristles flattening or wearing out. You might not know but bamboo involves anti-microbial agents that there is no need for the user to worry about the way the brush is stored. There so many kinds of toothbrushes available in the market that are made out of different materials. Although plastic ones have been in the market for a long time, it is beneficial for you as well as for the environment to prefer using eco-friendly toothbrushes.
There are so many other benefits of using eco-friendly bamboo toothbrushes with soft bristles. You can find a wide range of toothbrushes online and there are companies such as Purexa that offers a wide range of economic yet high-end quality bamboo toothbrushes in India at the best price. Visit their website or leading Online platforms to shop quality products that includes all the natural and healthy properties to keep with oral hygiene and combat any decay or plaque causing bacteria. Do be a part of campaign for a sustainable eco-friendly environment with Purexa.